Shock of the cold: 50,000 Syrian refugees learn to survive -20C in Canada
The country has given a warm welcome to thousands fleeing Assad's regime – but can they weather its bitter winters?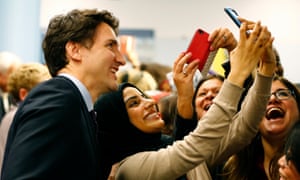 When Ziad Ammar arrived in Canada, he had been out of jail for only three months. Tortured and starved in one of the prisons of Bashar al-Assad's regime, he was weak and malnourished. It was not the best state in which to face a Canadian winter. "I bought everything that I needed for a whole month and then never left the house," he said, laughing.
Ammar, whose name has been changed to protect family members still in Syria, arrived in Montreal in the autumn of 2014. A native of Latakia, a coastal city on the glittering Mediterranean, he had never faced harsh winters, certainly nothing close to the blanket of snow that often adorns his new home city.
Over the past three years, Canada has accepted more than 50,000 Syrian refugees as part of government- and privately-sponsored resettlement programmes. In an initiative that ran counter to the global mood of growing xenophobia and rightwing populism, its prime minister, Justin Trudeau, welcomed the first group of Syrians arriving as part of the government's campaign in late 2015. Many who came after enduring war and displacement, and the misery of refugee camps in the Middle East, set about rebuilding their lives in Canada.
https://www.theguardian.com/world/2019/jan/06/syrian-refugees-in-canada-surviving-the-winter