Canadian Anti-Islam Militia Changes Leadership, Starts New Training Program
The leadership of III% Canada is changing, and the new commander wants to nationalize training and bring the group to a level of organization experts say is "unheard of" in Canada.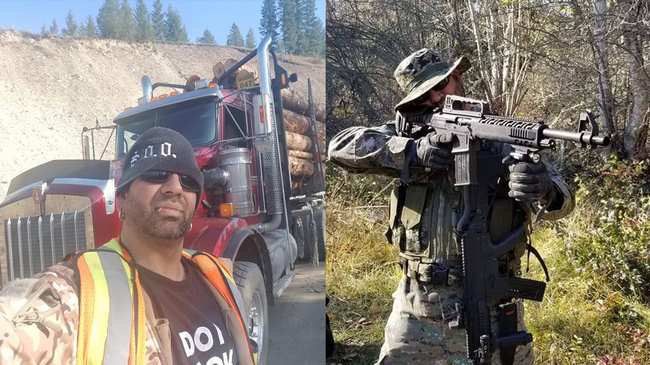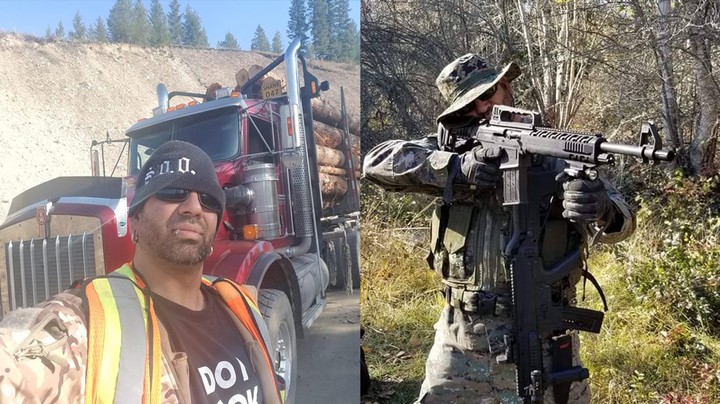 Nowlin poses with a logging truck and Kazz firing what he says is a KRX12, a semi-automatic shotgun. Photos via Facebook.
The anti-Islamic militia Three Percent (or III%), which formed in Canada almost three years ago, has new leadership and is looking to significantly increase their para-military style training.
Two weeks ago, a BC man named Kazimir (Kazz) Nowlin took over the reins of the far-right group from Robert (Beau) Welling, the only real leader the Canadian iteration of the group has known. The first order of business for the log driver from British Columbia: putting out a nationwide order for his followers to buy airsoft rifles—realistic weapons, which have been used by law enforcement for training, that use air to fire small BBs.
"All active III% members are required to buy one airsoft rifle and one airsoft sidearm for training purposes, this is a national order from the top and is being implemented countrywide to standardize training among our ranks," read the order posted in the organization's private Facebook group.
The reason for this directive, he explained in a further post, is so they can ramp up and nationalize their military-esque training; with airsoft they can "legally and safely" train "team fire, CQB [close quarters combat], or any other simulated cover and conceal training." This was something they just couldn't do beforehand as, even the threepers realized, shooting live firearms at each other under the guise of training is typically not the best idea.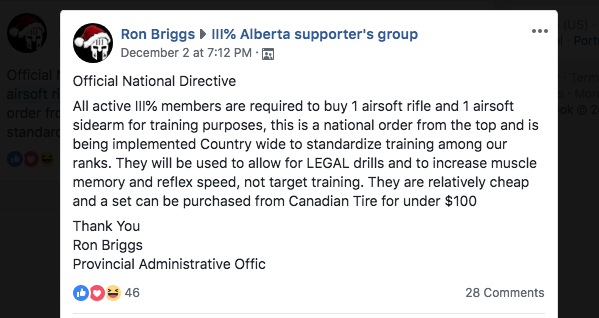 "In the summer months, I will be introducing new national training on CQB, live fire cover & conceal recce patrols, and counter strike tactics," reads Nowlin's post. "These training modules will require the use of airsoft, as it requires members to take opposition rolls to learn tactical advantages with ambushing, opposing strike teams dressed as innocents, and the skills to track down and attack opposing patrols, and camps."
More
https://www.vice.com/en_ca/article/kzvyae/canadian-anti-islam-militia-changes-leadership-starts-new-training-program